A year to forget or reality?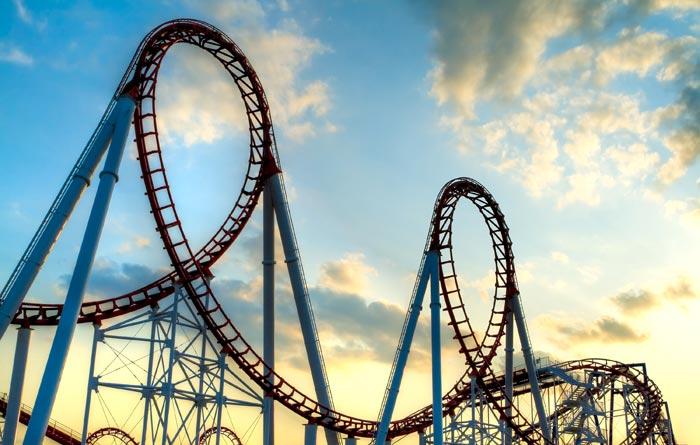 A statement depicting 2015 – "What a roller coaster ride!"
This statement is used often, but seldom is the meaning of this statement more truly correlated to what we experienced in 2015. Highs and lows, ups and downs, excitement, fear, grounding – reality.
The USA has seen significant unemployment reductions and GDP growth has stabilized. This will see the US Federal Reserve push interest rates up at the meeting on 16 December.
Over the last year, our currency has weakened by 28%, our market has achieved little growth of 1.5%, and our mining sector is down 26% and that with the strong Dollar. The ratings agencies have recently further downgraded South Africa's sovereign investment grade.
The main drivers of this situation continues to be the slowdown in China, Investors increasing their appetite for American stocks and security, the pending increase to the US interest rates, the strength of the Dollar and compounding the problem is our domestic decision making.
It would appear that policy, is not as sound, and poor implementation and management continues to impact the global sentiment in respect of our Country.
Expectations 2016
The local front will not disappoint in the volatility space. Investor uncertainty, labour conflict, policy changes and a non-conformance attitudes, forces the long-term growth outlook to be rather subdued.
We can expect a sub 2% growth rate. China's drastic slowdown in the consumption of what lies beneath our countries land will weigh heavily on the mining sector. Many positions or jobs in the mining sector are already under threat.
We continue to subscribe to a non-prescriptive wage increase, and this severely curtails our global competitiveness.
We expect the US to continue on its growth trajectory for the next few years. The Euro Zone will benefit greatly from this, and is also buoyed by the recent EU stimulus.
All this bodes well for our market in the coming years, however the volatility will continue until such time as global markets have settled.
On the other hand...
As investors we have become so used to our 10% + returns that we forget that there are times that for two to three years we have had a flat or negative return. We recently attended a meeting with RE:CM, one of our preferred asset managers, with one of our clients. This was significant in our re-enforcement of the Global investment World and the forces which impact wealth. What is most important is that you stay true to your conviction, and continue with your long-term objectives even when things seem rather concerning. Throughout this year we have still managed to handsomely outperform the relevant benchmarks.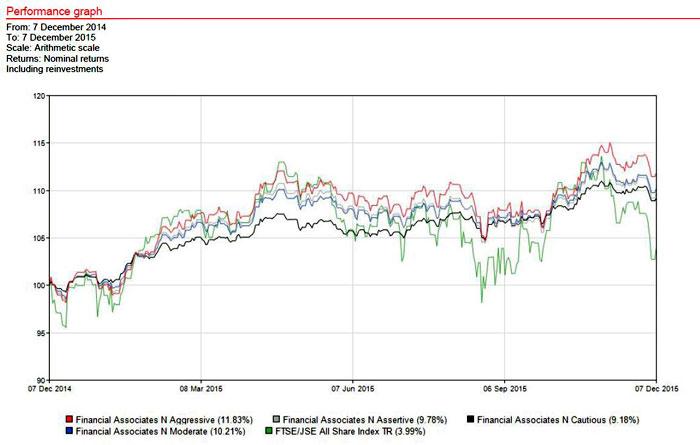 Creating Diversity
Financial Associates believes that diversity creates opportunity, mitigates risk and ultimately creates wealth. We do however realize the risk involved in making uninformed decisions. We therefore consider all aspects to provide you with different structures.
This year we partnered with PSG to provide you with a consolidated Share Portfolio. We would like to thank you for the significant interest and investment uptake in this opportunity as an extension to your existing portfolio.
PSG also assisted us in tailoring a Tax free investment product for our clients in 2015.
Financial Associates has continued to be proactive, and feel that some risk now at current market levels is a good proposition. We have been in discussion with a few smaller asset managers and will be launching a bespoke Boutique Asset Manager Portfolio of Funds.
Similarly we have assessed our current portfolios in respect of offshore exposure. Whilst we are governed by law in the non-discretionary space to place a maximum of 25% offshore, we have far more room in Rand denominated discretionary offshore exposure. We are still discussing various versions of a fully-fledged offshore feeder fund portfolio, and will have this as well as the Boutique Asset Manager Portfolio of Funds ready by end of Q1 2016.
From All of us at Financial Associates, please have a safe and joyous Festive Season and thank you for entrusting Your Wealth to Financial Associates.